https://www.clickondetroit.com/news/23-people-arrested-in-detroit-during-protest-of-mass-water-shutoffs-in-michigan
5 arrested for blocking Quicken Loans entrance, 18 arrested for blocking QLine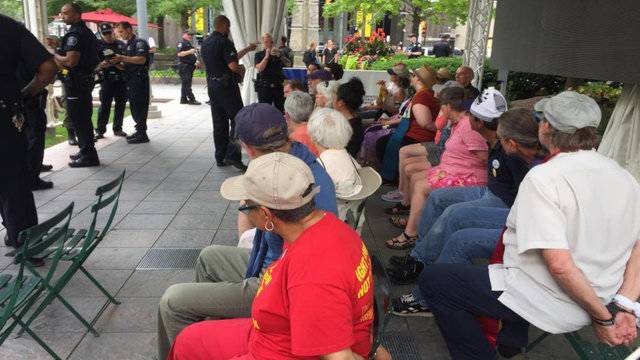 DETROIT
- Officials said 23 Michigan residents were arrested Monday while protesting the mass water shutoffs in Detroit, Highland Park and Flint.
Hundreds of people gathered at the Detroit Water and Sewerage Department and the Great Lakes Water Authority in support of low-income families unable to afford water and sewage costs.
Participants of the Poor People's Campaign marched to Campus Martius.
Five people were arrested for blocking the entrance to Quicken Loans and 18 people were arrested for blocking the QLine in both directions, according to the Michigan Poor People's Campaign.
Protesters said the event was sparked by "gentrification, poverty and public-private partnerships." They said dozens of low-income seniors have been evicted from HUD apartments in Downtown Detroit to create market-rate units for Quicken Loans employees.
Protesters said the development of Downtown Detroit has come at the cost of residents who live in the city's neighborhoods.
"The Poor People's Campaign is addressing the moral crisis in this nation and calling to change the moral imperative of a country that has lost its way," the Rev. Edwin Rowe said.
According to a release from the Michigan Poor People's Campaign, there are tens of thousands of households at risk for water shutoff and thousands already without water.
"The disorganized chaos of DWSD has consistently perpetuated harm towards my family and many others with their massive shutoffs and blatant refusal to institute a proven water affordability plan," Detroit mother Nicole Hill said. "This has caused irrevocable damage to my health, financial life and well-being, and I cannot allow this harm to continue."
Monday's protest is the culmination of the group's 40-day campaign in Michigan, protesters said. Hundreds of participants previously showed up in Lansing, where nearly 100 people were arrested.
Copyright 2018 by WDIV ClickOnDetroit - All rights reserved.